Ready Wet Screed Pumps
Ready Wet Screed Pumps
EVP 18 FC
These are the most advanced superior performance pumps designed especially for ready-mixed wet scree...
Ready Wet Screed Pumps
EVP 18 D
They are the latest developed high performance pumps with a pumping capacity of 18 m3 per hour, work...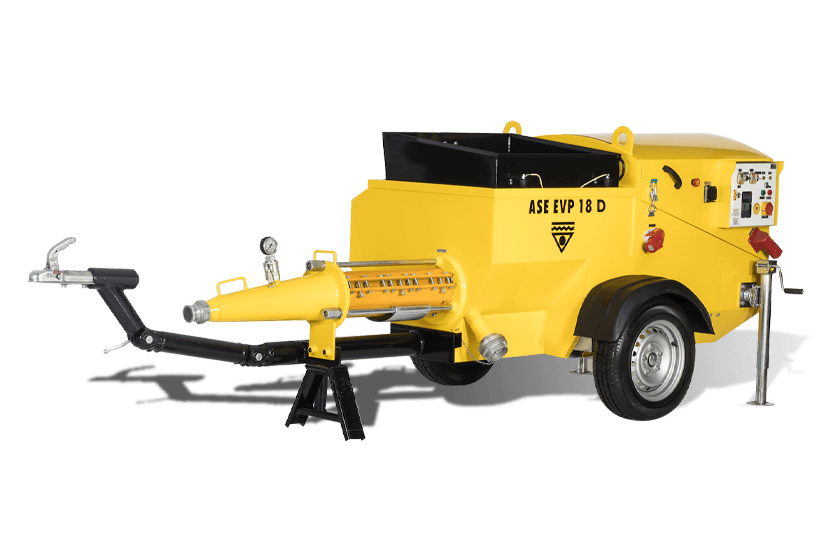 Alum Machine
Screed machines provide cement, sand and water mixture with maximum drive diesel or gasoline engine through which the pressurized material occurs to reach the required place through hoses. Thus, they are plastering machines used to make comfortable application to the place where the screed will be applied. These plastering machines offer a very high quality service.
Screed material; It is a floor covering material that is poured to make floor insulation on the poured and finished drying leveling concrete, to increase visual beauty and for special usage purposes. The screed machine to be used for these operations saves time. The purpose of screeding or pouring a screed is to protect the leveled concrete poured surface from the negative effects of the external environment. To extend the life of the area to be used on concrete surfaces.
What is a Screed Machine?
Firstly, screed machine can be used on the base parts of all structures, in places affected by water and moisture, in open and closed parking lots. It is a very high quality form of machine. It is manufactured using the highest quality materials. In addition, financial savings are possible if a screed machine is used in the factory interior and exterior areas, the factory ceiling part on the main surfaces, outdoor sports fields, indoor sports halls.
Thanks to these savings, facilities can be provided in other areas of construction. Beyond all these, screed casting is done in many places such as exhibition and show halls. In order to ensure the correct screed use of these areas, purchasing the right screed machine will make things easier.
What Does a Screed Machine Do?
These machines are used for many different purposes. It also provides advantages in the use of materials such as cement, mortar. Since it is produced using the highest quality materials, it also allows construction operations to be carried out in a short time. It is one of the most used machines in the construction industry. It is often preferred by many construction companies because of the advantages it provides. It also provides many advantages in the fields of use. Thus, it allows to provide a fast construction construction with low costs.
Screed Machine Features
Allows the construction to be completed in a short time.
It consists of durable materials.
It is produced in accordance with international standards.
It has a long life. As long as the instructions for use are followed, you can use it for many years.
Screed machines compressed air conveyors are machines belonging to the continuous air conveyors group. There are pumping and mixing processes.
The processing quality provided is also suitable for this.
Screed Machine Prices
The prices of these machines are quite variable. Prices may vary depending on the quality of the machine, the materials used and the sizes. The pricing of each machine is different. So you can determine the machine model that is suitable for you. Quality is more important than price.
The machines are durable for a long time because the production is made using quality materials. In addition, support is also provided after the sale. Thus, installation and technical service services are provided after sales. The quality of service is also important in these services. With the development of technology, new features have been added.
Screed Machine Brands
Screed machine brands are produced to be owned by many companies. These brands produce in every different model. Ase brand has become a brand that puts service quality at the forefront for many years with its knowledge and experience. What is important here is knowledge and experience.
Quality service understanding and brand are very important. The quality of sales and after-sales support services is also important. Quality is more important than brand. It is manufactured using many different materials. Usually materials such as metal can be used.
The Amount of Screed Needed on a Floor
The amount of cement is also very important here. The calculation of these margins is also a process. This process is managed in a professional manner. Screed machines are produced with a quality service understanding. The amount required for one coat is important. The calculation method should be well defined here.
When calculating it, it is necessary to use some parameters. Usually 40 kilos of cement bags packed in a dry ready-made way can be used for one coat. Quantity and measurement settings are made by professional people. The required quantities and measurements in the construction sector are made by specialists in their field.